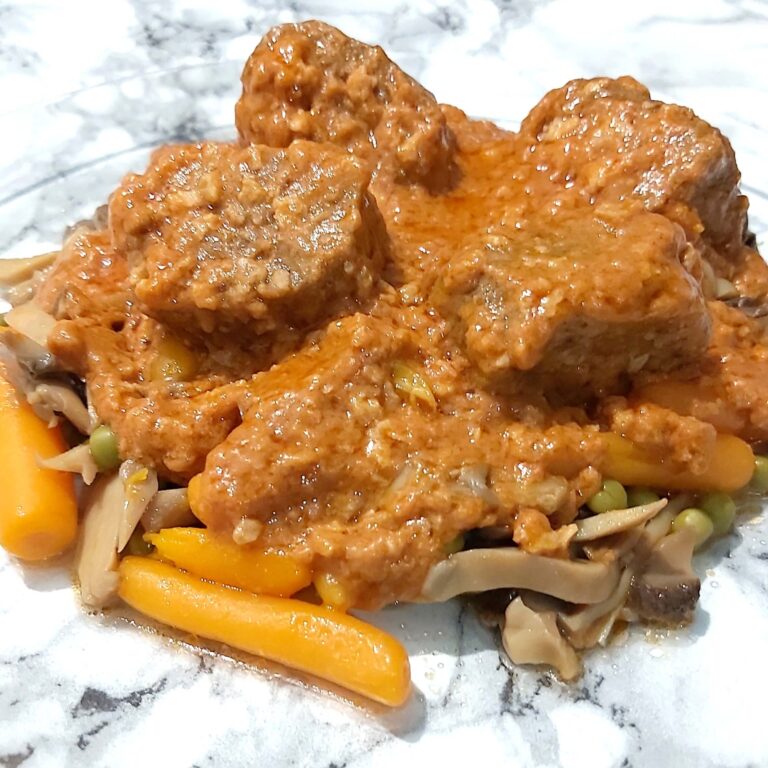 keto vegan bourguignon
With this recipe, we wanted to salute the region of Burgundy and its capital Dijon, which is on the way to becoming a world gastronomic capital, and which has played a central role in the evolution and development of Life Loving Foods® This recipe is the embodiment of food innovation. We have recreated a version rich in vegetable proteins, fibers and superfoods of the world-famous medieval dish: Beef Bourguignon. We dare say it: it's a Beef Bourguignon without beef! Savour!
Instructions
In a microwave-safe bowl, prepare the crumble by mixing 40ml of water with 35g of vegnpro and work it for 3 min.

Form a thick sausage, cut it into pieces and cook in the microwave at 900W for 1 min. add oil and cook for 30sec. OR Heat10 min. in a covered pan over very low heat, before adding the oil and cookingfor 3 more min.

In an oiled pan, sauté 1 tbsp. of the vegnpro mix, 1 tbsp. of tomato paste and 2 tbsp. oil.

Add enough water to make a light sauce, then bring to a boil.

Add the pieces of vegnpro and stir gently.

Serve with hot vegetables (mushrooms, potatoes, carrots).