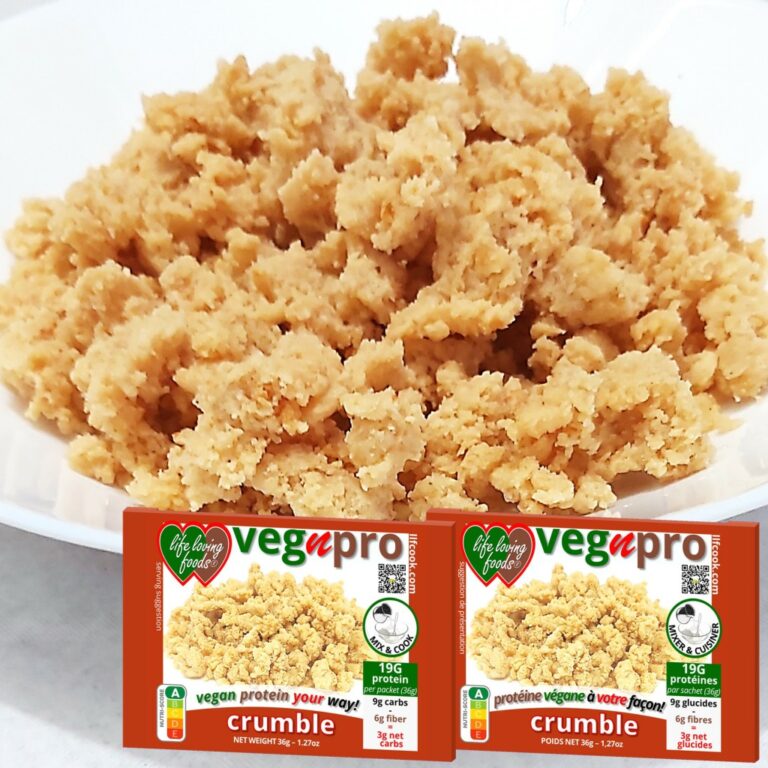 vegnpro crumble
vegan protein crispy crumbles
Ingredients
1

packet

vegnpro crumble

optional: add 1 pinch salt and white pepper etc...

1

tbsp

almond flour (low-carb) OR cornflour (classic) OR similar (20g) + 1 tbsp water (15ml)

optional for a mega serving size

36

ml

water

500

ml

oil for deep frying OR air fry
Instructions
open a packet of mix along theupper edge. pour into a bowl and add seasoning

mega : add 1 tablespoon (20g) almond flour (low-carb) OR cornflour (classic) OR similar

mix well before adding in water

and 1 tablespoon of water (15ml) if one 1 tablespoon of a flour was added in step 2

add (1/4) empty packet (~36ml) or more of cold water if a softer texture is desired

mix well while pressing gently to make a crumble

place into a frying basket and lower slowly into hot oil and allow to deep fry untouched to avoid breaking up the crumbles OR place in an air fryer

serve and enjoy as a snack or add to a salad or as croutons to soup or pasta or sauces or sandwiches... The possibilities are endless...