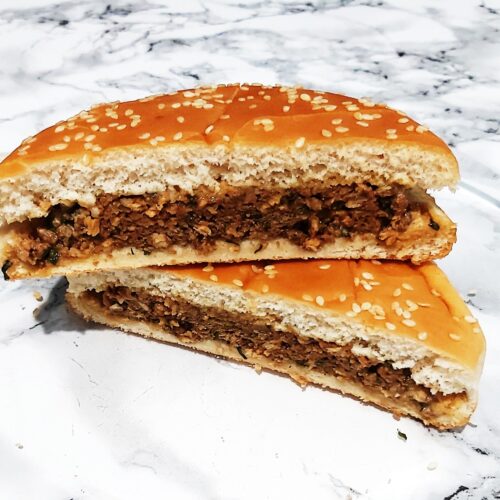 keto vegan rou-jia-mo
We have chosen to innovate by creating a Life Loving Foods version of the famous and popular Chinese rou-jia-mo sandwich. We wanted to take up the challenge to reproduce the unique texture of the meat, the main element of the sandwich. Indeed, rou-jia-mo means "meat sandwich", it is the Chinese equivalent of shawarma, gyro or döner. The main difference is that the meat is simmered for many hours until it becomes tender. Our vegnpro rou-jia-mo is plant-based and can be prepared in a few minutes. It is therefore a double success. Savour!
Instructions
Prepare chopped fresh or dehydrated cilantro, parsley and chives.

In a microwave-safe bowl, mix well the chopped green herbs with 45ml of water.

Mix in 35g of vegnpro to prepare the crumble.

Form into a loose patty and cook in the microwave at 900W for 1 min. OR Heat 10 min. in a covered pan over very low heat.

Gently slide the hot patty on to a bun.

Combine soy sauce, mayonnaise, vinegar and sugar to make a sauce. Season the hot patty with the mixture. Wait 30 sec. for the sauce to soak into the patty before pressing down firmly on the upper bun.