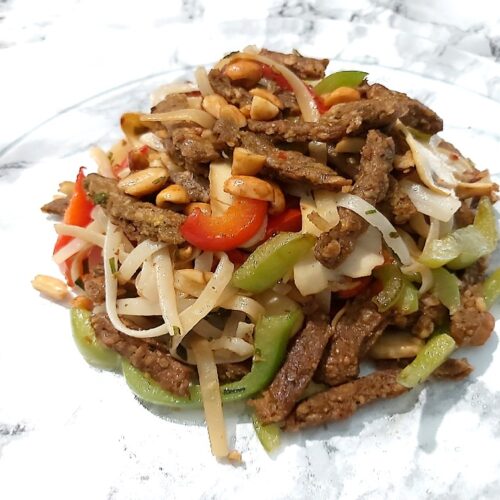 keto vegan pad-thai
This recipe is based on a traditional street food that has a tangy, salty, and sweet flavor – Pad Thai! Not only is this a typical street food found in Thailand, but Pad Thai is also a staple dish that can be found in almost all Thai restaurants as well. Pad Thai can be served with different meats as protein or simply with vegetables. We decided to take this dish and put a Life Loving Foods spin on it! Using our vegnpro, we created a Pad Thai recipe that is so delicious in taste and texture that you will want to keep making more! Savour!
Instructions
In a microwave-safe bowl, preparethe crumble by mixing 40ml water with 35g of vegnpro and work it for 3 min.

Press into3 sausage shapes and flatten and cutinto1 cm slices. Cook the slices in the microwave at 900Wfor 1 min. OR Heat for 10 min. in a covered pan over very low heat.

Slice the vegetables and chop the roasted peanuts and chives. Cook noodles until tender and rinse in cold water.

Add the oil and the sliced vegetables to a hot skillet and stir fry for 3 min. Add the vegnpro slices, chopped peanuts and chives and stir fry for 3 min.

Add noodles and soy sauce and stir fry until the noodles are hot.

Serve accompanied by more soy sauce.