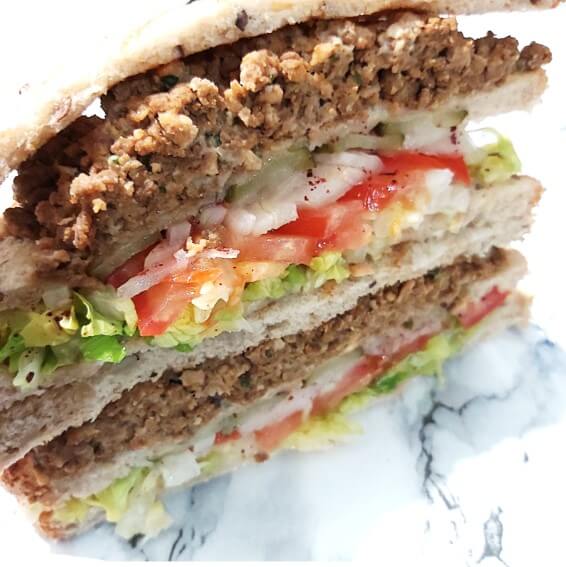 keto vegan crumble sandwich (crumwich)
By offering a vegnpro crumwich, we wanted to create an original continental club sandwich with classic Lebanese flavors and ingredients. Halfway between a fresh and light falafel and a dense and creamy steak sandwich, it will revive your taste buds! Lemon, parsley and sumac give it its incomparable zesty taste, while tahini and mayonnaise provide that unique texture and flavor of a falafel sandwich. This is how you get a giant falafel patty where East and West meet to offer you this unique culinary experience.
Instructions
In a microwave-safe bowl, prepare the crumble by mixing 40ml of water with 35g of vegnpro.

Chop the onions, lettuce, tomatoes and pickles.

Place them between two slices of bread.

Cook in the microwave at 900W for 1 min. add oil and cook for another 30 sec. OR Heat for 10 min in a covered pan over very low heat, add oil and cook for 3 more min.

In a bowl, using a spoon, combine tahini, mayonnaise, lemon, parsley and sumac. Mix into the hot crumble and spread over the sandwich.

Cover with a third slice of bread. Lightly press together the sandwich and serve immediately.